My trip in Taiwan was not only fun-filled with the sightseeing and delicious snacks, but also mind-awakening with the chance to learn from the Hope, MRA people about the ways they organize their volunteering activities.
Taipei
First few days were spent with Xiao Tian. We went to the Palace Museum only to discover that it was undergoing some reconstruction in certain parts. Still I managed to see much more exhibition than I did during my visit in China, hence realizing the vast amount of treasures brought over during the end of Qing dynasty.
I enjoyed very much the trip to Damshui where I found lots of snacks to try – nougats, muachi, fishball soup, ah ge, steel egg, wan tan soup, etc… At the Damshui Fisherman's Wharf, we crossed the Lovers Bridge and enjoyed the hot afternoon under a 'n' shaped huge tree while looking at the Guanyin mountain in the far.
Of course, we went to the famous Shilin night market and also took a look at the highest building in the world – 101 Tower. Personally I think it is not too pretty with its Lego-like architecture design.  Still prefer the twin towers in Malaysia, hehe.
Within the first few days, I noticed a few interesting facts about Taiwan. First of all, tuition classes are so common in Taiwan; even the university students go for tuition! I was fascinated by the kiasuism exhibited and wondered how could people actually spent a fortune just to assure themselves they are learning well. Second discovery: girls in Taiwan are so afraid of sunshine that they actually wear a hat + take an umbrella + weal long sleeves + put on sun lotion every time they go out. There is even a saying of 'triple protection' to ensure girls get a fair skin. So much for the obsession for fair skin. Third discovery: Taiwanese loves to use abbreviations for almost everything; many words are abbreviated and it was amusing to learn up new words and having a good laugh when my friends can always use 2 or 3 words to shorten my whole sentence.
Yi Lan
We went to Yi Lan with a group of friends. Once again, I savoured the various food and snacks like DangGui mutton soup, Tian Bu La, Pu Rou, tofu, etc… but I particularly like the Peanuts-wrapped icecream.
Staying at the B&B located next to a vast padi field is enjoyable. It made me feel I am right at home at Kedah, the rice bowl of Malaysia. We managed to come just at the time of the celebration of the Children's Day and we joined in the celebration to become children again. Besides these, we went to the National Traditional and Cultural Arts Museum and I learned much more about the local music, traditions and arts. Of course we did not miss out the chance to spend a hot afternoon in the Cold Spring~! (It IS very cold!)
TaiZhong/ Changliaowei
I followed Changcheng and Shufen down to TaiZhong. I was lucky to have a chance to go to Ri Yue Lake as GYSD was organizing a volunteer activity there. Besides getting some souvenirs, I was fortunate enough to have a go at pottery-making, all FOC as a special treatment from the owner, seeing that I was a guest from Malaysia. We later went to the 921 Earthquake Exhibition Centre and on our way managed to watch the 'Bu Dai Xi' at the roadside.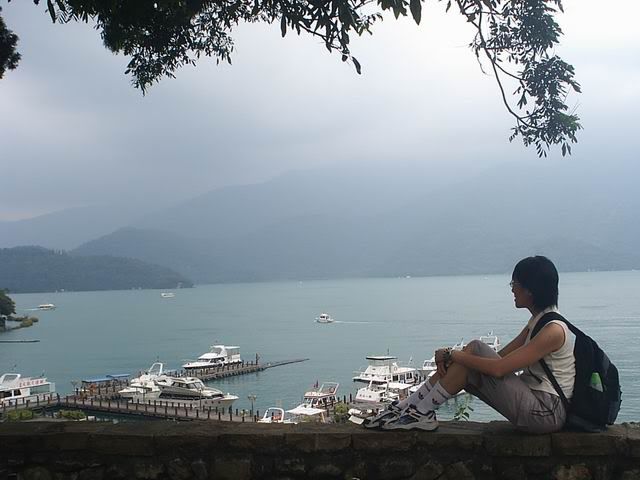 At night we went to the night market at Feng Jia (going to night markets has become a norm to me in my Taiwan Trip, hehe). Again I was dazzled by the choices available.
The downside of the trip this time is I happened to bump into the typhoon season so certain plapces like Hualian and Kaohsiung are not accessible. However, this gave me a good excuse to have another trip in another time! hehe...
The best experience I had in Taiwan was the time spent with the people in Hope, MRA – I not only got to know lots of new friends but also got a chance to learn about their organization of youth activities and volunteering work. Through the conversations with the social workers, I got to know their work in various parts of the world from India to Samoa. I salute them so much for their great heart and sheer determination, I look up to them for their love for humankind, and I want to emulate them to serve my community better.