I was invited to the British Council International Student Award Ceremony and Lunch to handover the Gold Award to this year's winner. I was pleased with the invitation and looked forward to see some old faces and some new faces in the ceremony.
It was a pleasant surprise to find out that I was sitting next to Jimmy Choo on my table. I remembered dad was just talking about him being such a famous shoe designer in the world, and most importantly, he is a Malaysian who did the country proud. Had a good chat with him and discovered that he was a very friendly and warm person. Our table consisted of ALL women and only one guy, and all the ladies adored him so much for his exquisite shoe-making ability!
Got to know a lot of outstanding international students in this year's competition and I really salute them. Each of them exuded amazing abilities and personalities and I have no doubt they will be successful in future. I feel so honoured to have a chance to talk to these people and learn from them, and we exchanged contacts to stay in touch in future.
Catching up with old faces that I have met last year was nice too. Managed to see Nicki, Siobhan, Tatyana, Jacqui and others again, but didn't manage to catch up with Andrew and Ian. Met some new people too and it is nice to feel as a part of the BC family.
BC has given me the opportunity to better myself, and to learn new things and meet new people. I could not be more thankful to them for all the care and help they have given to me all these times.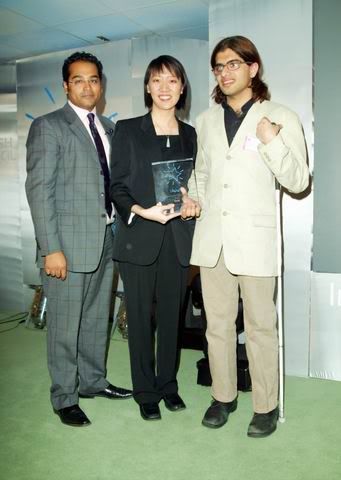 Handing over the Award