I definitely want to tell this to all my juniors wishing to come to London for study but worrying about the expenses – there are so much ways to enjoy the city without spending much money!
By just walking around London, I have discovered a variety of places where I can spend time without putting burden to my wallet. I remembered the first discovery was during the times when I was still using crutches to walk – I just could not stand sitting around during the sunny day!
During my first walk, I discovered the pleasure of walking along river Thames, watching people relaxing, jogging, sightseeing, etc. Along the stretch of the bank, I enjoyed the Houses of Parliament, Big Ben, London Eye, HMS Belfast, various bridges especially Tower Bridge, Royal Festival Hall, and all other shops and pubs along the river. I was so fascinated by the River Thames walk that I dragged a group of friends to join me in my next adventure – to cross all the seven main bridges in one day. Boy, that was a great exercise for our limbs!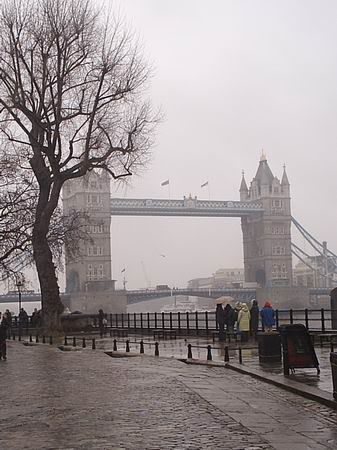 My first sight of Tower Bridge, taken during winter 2003
From the walk past Tate Modern along river Thames, I also realized that most museums and galleries in London do not collect entrance fees! So with a few friends, I started spending long afternoons in museums and galleries. I particularly like British Museum and the National Gallery near Trafalgar Square; and there are yet so many more museums that I plan to go!
I like the parks in London – it is always so relaxing to have a stroll in the parks. I have repeatedly visited St. James Park for its beauty (with a de-tour to Buckingham Palace of course), and I love exploring Hyde Park although I have got lost in it after crossing the border into Kensington garden.  Sometimes when I don't have the time for huge parks, stopping over at small squares or gardens gives a boost of energy after a long day. Russell Square, small as it may be, has become my frequent stop-over place on my way to the University of London Union building for societies activities.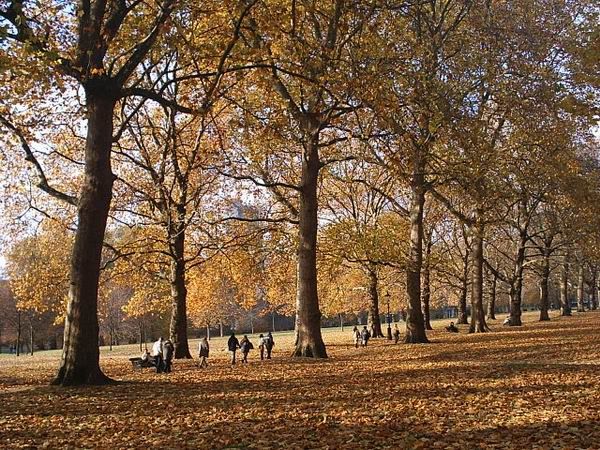 Green Park, taken during Autumn 2003
During my second year, it became a routine for my housemate and I roam the street markets and food markets during weekend. There is just so much to see in the famous flea markets in London, from grocery and snacks to accessories, carpets, furniture and even to antiques. We made full advantage of the famous Brick Lane, Petticoat Lane, Spittafields Market and Liverpool Street Market just around the corner. Sometimes, we ventured out of our 'territory' to other interesting markets like Camden Town, Borough Market, Shepherd Bush Market, etc. The markets never fail to give us surprise in each visit!
Hanging out with friends in traditional English pubs (I personally prefer old English pubs than modern disco pub, guessed I am a bit retro…) is a nice way to spend the afternoon. I always prefer to choose afternoon for a nice gathering with friends in pub as there bound to be less people to cram with.  A whole lazy afternoon spent chatting and relaxing is well worth the price paid for a pint of beer. There were also times we have to stand outside the chilly night among the crowd holding our glasses, but that was fun too in its own way.
And of course, my all-time favourite hangout place would be Trafalgar Square. I do not know why I love it, but it just have a serene feel. I just feel I belong there. :-)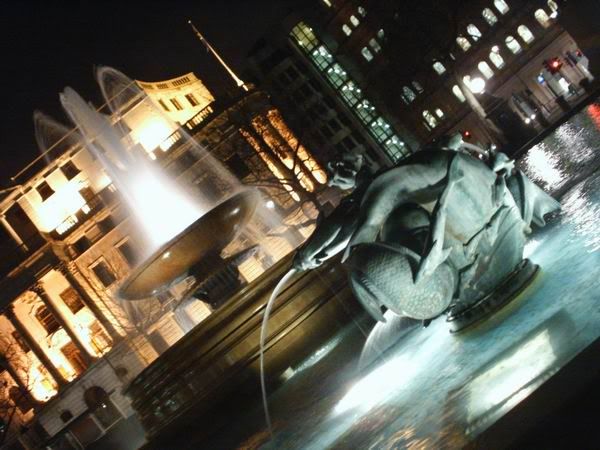 Trafalgar Square, taken during Spring 2004
I always bring along my camera when I decided to roam around London to enjoy my afternoons. There are so many things, so many moments that I wish to capture in my photographs, making those particular moments eternal. I am compiling the snapshots I have taken during the year, and hopefully during this summer I can arrange them and put them in albums for memory.
Many corners of London are still yet to be explored, and they beckon me to come! I just can't wait for my next 'roaming'!