This year we prepared our own traditional christmas dinner. Preparation took almost 3 hours. James is the main chef, well, he did, like, almost everything!
Starter:
Stuffed Turkey Joint

Sausage Rolls

Bacon Strips

Roast Potatoes + Parsnips

Brussel Sprouts

Carrots

Cherry Tomatoes

(The Roast potatoes dish is the best! James certainly did a great job in using the goose fat.)


Dessert:
Christmas Pudding

Meringue with whipped cream, raspberries and tinned mango in syrup

(some of us decided to have some fun with the food & did a masterpiece)


After dinner, we played Pictionary. As we were playing, I accidentally suggested that a penalty should be imposed on the loser.

ME AND MY BIG MOUTH.

Well, I lost and the bunch of crazy people decided to make me their Barbie doll. They took out all the make up kits, hair gel, etc etc and gave me a full make over. The original plan was to creat the hideous look that scares people away, but I think those guys found this girly game enjoyable that they decided to blend the look of Anita Mui+Shu Qi+Sammi Cheng+etc in one.

Still, I turned out to be quite hideous.

Worse still, there is a photographer constantly taking pictures of the process, the 'transformation' and the final look. Geez, I think modelling is just so NOT for me.

Luckily, there is still, at least, one picture that turned out OK. Here it is.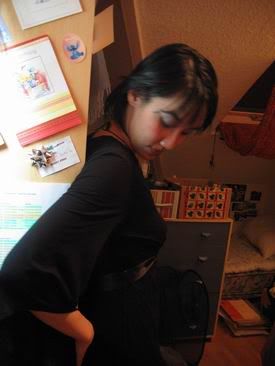 Merry Christmas folks!