Felt quite surprised and touched today to receive many unexpected calls and wishes from friends... Phone calls, sms, email, friendster... A short message means a thousand words... Also felt touched when some went all the way to buy gifts...
I guessed I have been quite cheeky today, forcing everyone that wishes me to sing a Full Happy Birthday Song to me! It was quite fun pestering people to sing, especially to those who had never really sing out loud in public before. But it's great to see that everyone is very sporting! Thanks loads buddies! Will sing to you at your birthday too! hehe...
Thanks so much friends! So many people to thank, I can only express my gratitude and happiness to all of you. thanks especially to YY, sinsin, anthony, Joey, ah phang, tzuenkiat, yuhjiun, voonsan, chunhong, liciang, daryl, phannee, liangqin, chialin, chinloon, johwee.... etc etc etc... pardon me cuz i cannot manage to write down everyone's name... but you know what my heart wanna say, ya!
Special message for YY... Really thanks so much for everything. you've really made me feel 'special' today. and thanks so much for all the help you have given me last time. very very thankful to you. you r a true friend whom i appreciate very much! muaks! lots of love, hugs and kisses...
Some pics...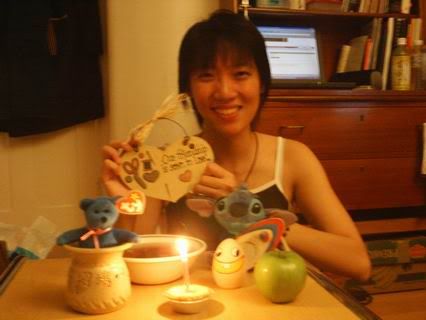 With the little gifts...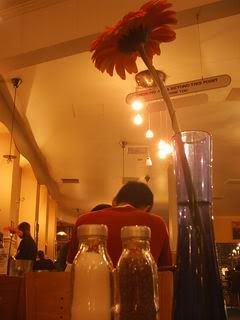 At Wetherspoon with ray n phang, 'wuliao' so take pics while waiting for food.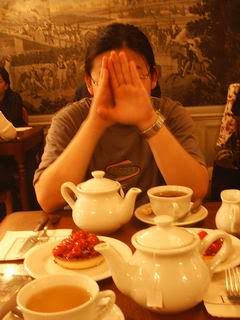 At Paul Teahouse, Rasberry tartlet, strawberry tartlet, peppermint tea and earl grey. thanks YY for the cute Stitch! Love it! but still i wanna smack you for not listening to me... grwww...
YY insisted that her photo not to be taken. you wish... kekeke..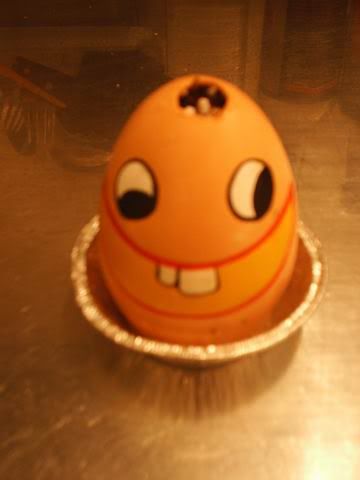 Yuhjiun's egg gift... will update more about its daily progress. supposedly to grow into a tree that says "Happy Birthday". Let's keep our fingers crossed.
and thanks yiing, I forgot to take pics during our warm and nice lunch at CNR, and a nice little reunion and chats... suddenly realized we have grown much five years after Form 5, Sin Min. Things change, people change, but our friendship stays. Ganbate!
Well, tired after all the meals and walk and talk and shop.... I shall have a good night sleep tonight. Thanks again for all the wishes...