A familiar picture among stacks of envelopes caught my eyes when I was rummaging through the mountain of mails. (There are 4 flats sharing the same mail box, at the place I stay now...)
A postcard from Malaysia! What a delight! It's from my dear friend, Low, who himself loves collecting postcards. Somehow, we have started to exchange postcards, hence started this series of postcard stories. Just two days ago, I was surprised by the appearance of my Big Ben on his blog,
1979
.
Anyway, here is the wonderful postcard that tells the story of Malaysia.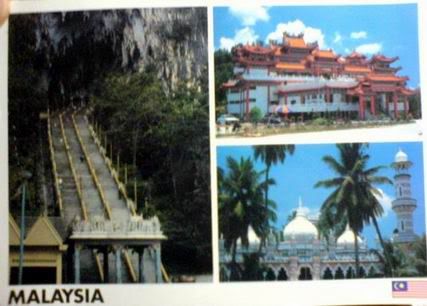 Batu Caves (Left), Thean Hou Temple (Top Right), Masjid Jamek (Bottom Right).
Such was the variety of races, cultures, and religions in Malaysia. While
Batu Caves
has always been a site for Thaipusam celebration by Indians,
Thean Hou Temple
is one of the grandest chinese temple not only in Malaysia, but in Southeast Asia. Also,
Masjid Jamek
is a significant starting point of the history of KL.
Besides the historical values exhibited by the places, I am impressed by the implicit meaning conveyed through these snapshots. With the three religious sites of three races, the pictures potray the multi-racial and multi-cultural society of Malaysia. Malaysians have always been proud of the rich culture and strong unity in our country. And the tolerance and freedom of religions have enabled places as such to be built, and cultures to grow and integrate with one another. The wonderful thing is, despite the differences in backgrounds, Malaysians easily mix among races and celebrate various festivals together, no matter what race you are or what religions you have. There is an evolution of Malaysian culture, rather than the distinctive cultures of different races, that makes us feel at home, and feel together.
One special Malaysian culture is the "
Open House
" culture. During festivals and celebrations, Malaysian fellows love to throw an Open House party, which invites anyone around the neighbourhood to come and celebrate together. With such 'policy', no specific invitation is needed at all, everyone comes and gives good wishes to the host, who happily welcome anybody. With such concept, people are friendly to any visitors, and the atmosphere is filled with trust and friendship.
Another strictly Malaysian culture -
Mamak Stalls
- the best hang-out place for youths at night. Sometimes people see this as a unique version of pubs for Malaysian, but of course, no alchohol is served. :-) We prefer Teh Tarikkkkk...
Well, I should stop going on and on.. Once I have started, I always get excited and would get deeper and deeper into discussion. hehe...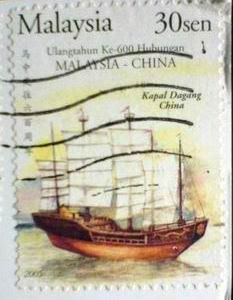 One last thing I gladly noticed on Low's postcard, the Stamp which depicted the 600th anniversary of Malaysia-China diplomatic relation, and showed a picture of the Chinese Junk sailing. I love this stamp! Maybe it's because of my interest in reading Cheng Ho's (or Zheng He) exploration, especially in the recent debate about the extent of his ships' travel around the world, after the "1421" came out. Cheng Ho has left quite a legacy in Malaysia, with some of the chineses today still visit the Sam Po Temple erected to venerate him.
Thanks so much Low, for the lovely postcard, and for the chance for me to launch into another ramble. hehe...
P/S: Thean Hou Temple is a very significant temple for Hainan people in Malaysia, and I am a Hainanese. This means a lot to me, thanks so much.